[MY&SG] Best Durian Mooncakes for Mid-Autumn Festival in 2022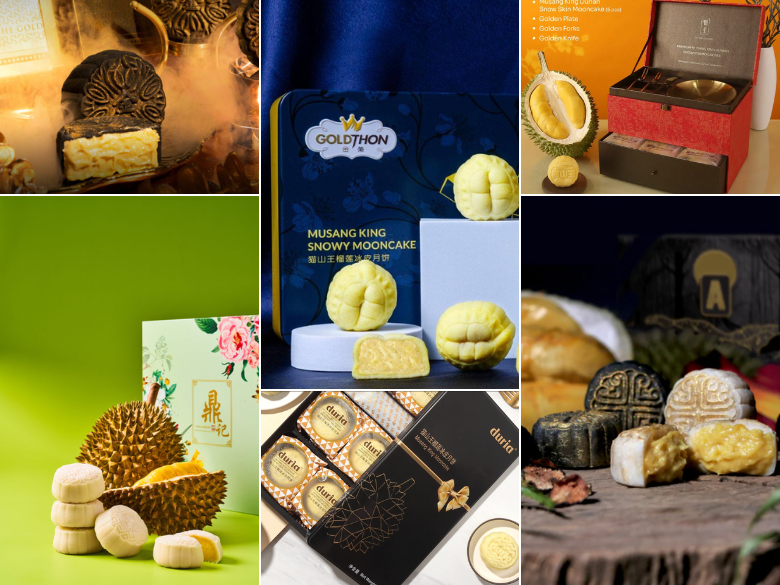 If you're a durian-lover, don't miss this special topic prepared for you! Even though, according to the Chinese lunar calendar, autumn has come, the weather remains scorching in tropical countries of Southeast Asia. Therefore, nothing tastes better than some refreshing and creamy durian mooncakes! Scroll down the article and pick one of the six best durian mooncake brands from Malaysia and Singapore, as the Mid-Autumn Festival is on its way!
---
Durian Mooncake Brands in Malaysia
Duria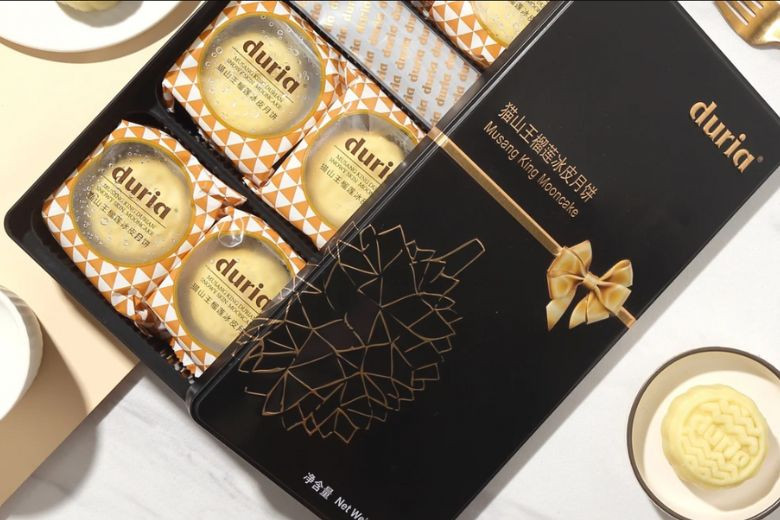 (Image source: Duria)
"Duria" is unignorable when it comes to durian products in Malaysia. Known as a pioneering brand in the durian industry of Malaysia, Duria proposed in 2002 the establishment of the first integrated durian factory to the Ministry of Agriculture and Food Industries. After six years, their products had been successfully exported to the markets of many regions such as the US, Hong Kong, and Australia.
In addition to durian ice cream, Duria specializes in snowy durian mooncakes. Stuffed with Musang King as the filling, Duria's mooncakes have diverse options for flavors, including coffee durian, bamboo charcoal durian, pandan durian, vanilla durian, etc. To make the package look more ceremonial in gifting, the gift box uses an elegant black steel box. What's more, the gift box is put inside a gold-colored cooler bag when carried, to make it stylish and exquisite in appearance.
Buy Now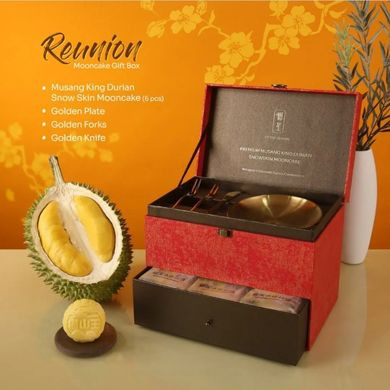 (Image source: Tip Top Durian)
Once you make an order, your purchased goods will arrive at your house in the blink of an eye. The impressively efficient delivery service is provided by Tip Top Durian, a Musang King durian delivery brand established for durian-lovers. Besides fresh durians, Tip Top Durian also launched durian cheesecake, durian mochi, durian ice cream, and other relevant products. Of course, durian mooncake would be a must-have for this brand.
This Mid-Autumn Festival, Tip Top Durian released 5 types of Mid-Autumn gift boxes. Despite the separated servings and package design, the gift boxes contain high-quality durian mooncakes featuring a thin crust and generous amount of fillings. Another highlight other than the delicate package is the golden utensil set, including a golden fork, knife, and plate. The pleasant surprise enhanced the luxuriousness to the already distinguished gift box.
Buy Now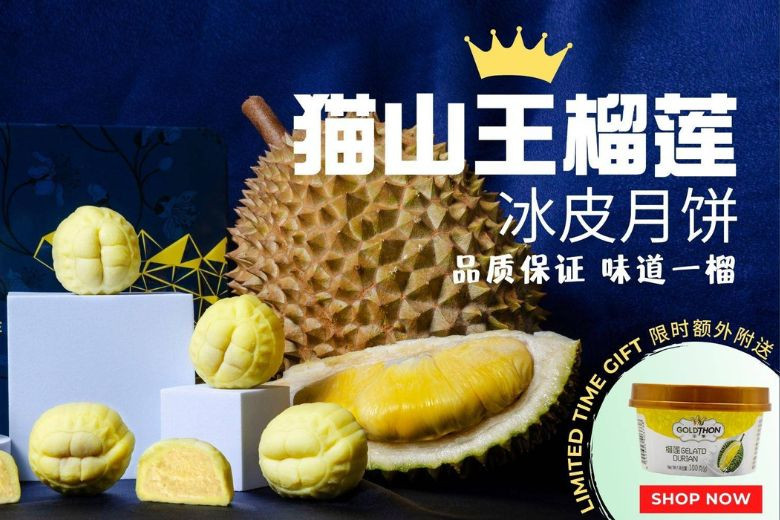 (Image source: Goldthon)
Goldthon, originated from Batu Pahat, Johor, has over 30 years of history. The brand possesses enormous fields for producing durians as well as tropical fruits such as mangosteen, rambutan, and jackfruit. The age of the durian trees on average is 20 years old. As for the fruits, Goldthon produces durians of all kinds, be it Musang King, Golden Phoenix, D24, D88, and more.
Besides selling homogeneous products like fresh durian, frozen durian, durian cake, and durian ice cream, Goldthon also released Musang King Ice Crust Mooncake for the upcoming Mid-Autumn Festival from which you can taste the pungent pulp wrapped in bouncy thin crust. What's more, unlike how a conventional mooncake is shaped, Goldthon's mooncakes are in the shape of tiny durians, adding to the fun for the gift box. The whole gift box set contains mooncakes, exquisitely designed steel box, elegant cooler bag, and utensils. What's more, once you purchase a gift box, you'll get a free Musang King durian gelato.
Buy Now
Durian Mooncake Brands in Singapore
Ding Bakery Mooncake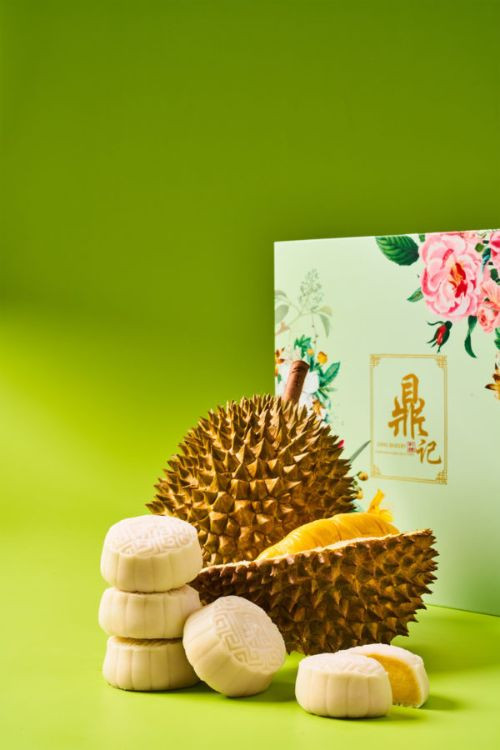 (Image source: Ding Bakery Mooncake)
Ding Bakery Mooncake is a bakery brand for traditional and ice crust mooncakes. Featuring its innovative flavors of impressive variety, mooncakes in Ding can be stuffed by fillings of the following flavors: pandan, palm sugar, tiramisu, Korean yuzu, etc. And of course, durian can't be missed.
So far, Ding has released multiple styles for gift boxes. Each style contains mooncakes in two flavors. Ice crust durian mooncake matches either with white lotus seed mooncake with egg yolks and pandan mooncake. Either of the matches brings a whole new experience other than conventional Southeast Asian flavor. The gift box uses a wooden framed box to enhance the overall presentation. Early birds who purchase before the Mid-Autumn Festival will have a 5% discount.
Buy Now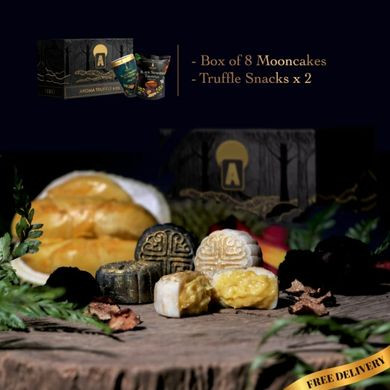 (Image source: Aroma Truffle)
Inspired by the artisanal truffle growing skills in Italy, Aroma Truffle is dedicated to bringing authentic Italian truffles to Singapore. The brand sells plenty of truffle-flavored food, be it truffle chips, truffle gelato, truffle oil, truffle salt, and more. The brand also sells gift boxes of various choices.
As expected, Aroma Truffle released Truffle Mao Shan Wang Durian Snowskin Mooncakes this Mid-Autumn Festival. Their mooncakes are in white and black colors. The white ones are ice crust mooncakes while the black ones use exclusive truffle-flavored mooncakes. The mooncakes are sprinkled with golden power as an indication of luxuriousness. Besides mooncakes, the gift box also contains golden utensils, select organic tea leaves, and other truffle-flavored desserts. You can choose the quantities of mooncakes and other desserts when purchasing a gift box. Yet, no matter what you choose for what's inside, your gift box will definitely impress the recipients.
Buy Now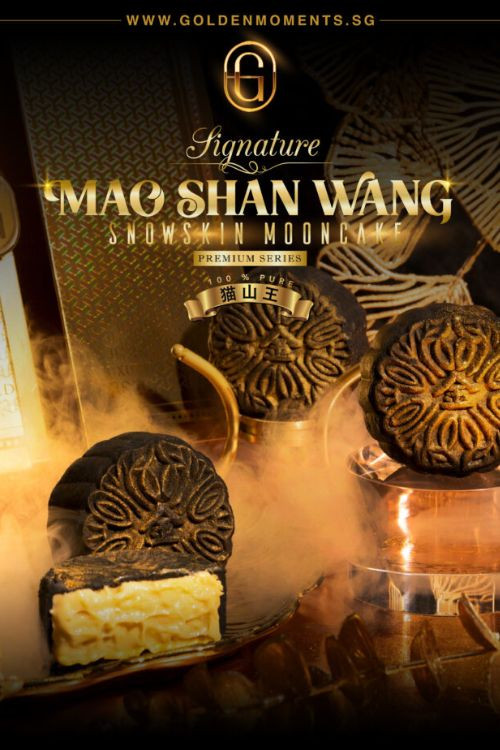 (Image source: Golden Moments)
Golden Moments is famous for their breathtakingly innovative and diverse desserts. Their products have creative cakes, mala crawfish cookies, fruit-flavored chocolate, and durian mochi. And the recently highlighted product is innovative mooncake.
The mooncakes include classic Musang King durian, hazelnut Musang King durian mousse, lychee martini, pandan, and golden lava. The classic durian flavor uses charcoal black crust to wrap durian paste and is sprinkled with golden powder. Golden Moment provides several combos to choose, be it a box of single-flavored durian mooncake or that of multiple flavors of mooncakes. Every bite would be an astonishing journey for your taste buds. As for the box, the brand will certainly impress you by its sumptuous design, giving you a Louis Vuitton vibe.
Buy Now
Celebrate a chilling Mid-Autumn Festival
Did the brands above draw your curiosity? During the annual reunion in autumn, mooncakes represent the gratitude to family and friends as well as liven up the atmosphere of gathering. We sincerely hope that you'll find your ideal mooncake boxes and have wonderful memories with your beloved ones. Follow World Gourmet Platform for more international food topics. We'll continue bringing you more information about gourmet foods around the world.
---