Best Whiskey in Malaysia: What's Special about Timah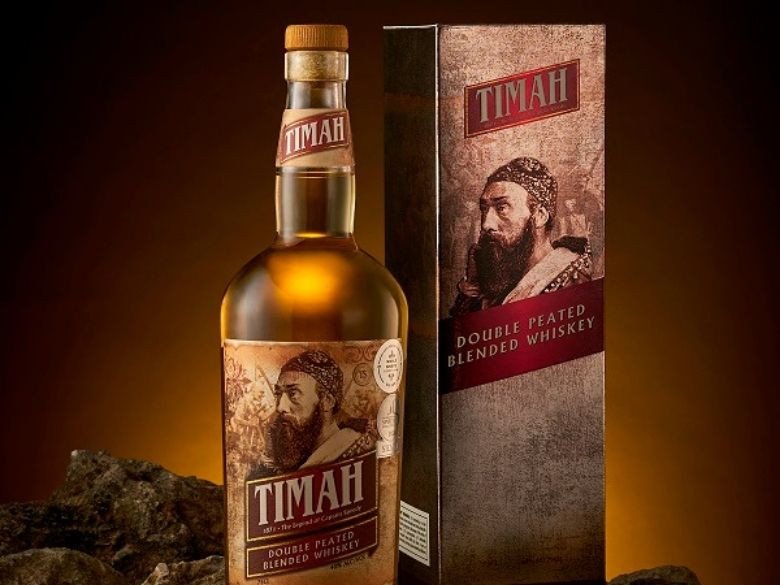 (Image/ Winepak)
In 2021, Timah was awarded the Best Malaysian Whiskey in the IWC (International Whisky Competition), though it was not the first time Timah won international recognition. In fact, when Timah first rolled out in the market, it immediately took two international awards, regarded as the rising star of spirits. Yet Timah also provoked a big controversy because of its name. How did Timah receive huge international attention and what made this spirit controversial? Let's take a look at Timah's background.
---
A Dark Horse in Whisky That Comes from Malaysia
Produced by Winepak Corporation, established in 1982, Timah Double Peated Blended Whiskey firstly won silver medals in both International Spirits Challenge and San Francisco World Spirits Competition in 2020. In the following year, Timah competed in IWC. It was the first year when IWC added several regional awards, and Timah was awarded the Best Malaysian Whiskey. In a Muslim country that doesn't particularly favors alcohol, Timah's spectacular achievement definitely surpasses all expectations.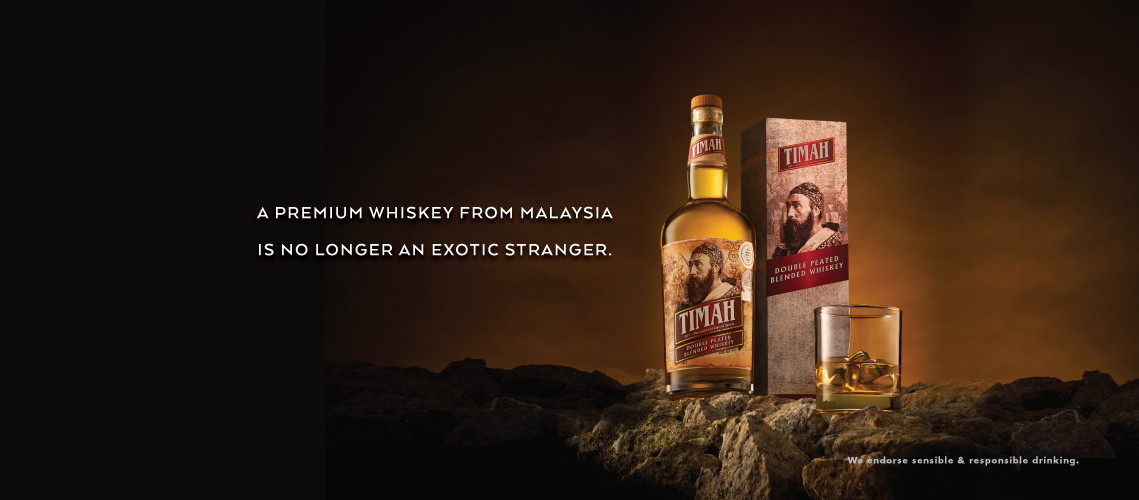 (Image/ Winepak)
Who Is This Bearded Old Man on the Label?
You may notice Timah featues an old man on the bottle and start wondering about the story behind it. This man is the famous British Captain - Tristram Speedy, a renowned adventurer back in the Victorian Age. During the British Colonial period, Malaysia was a country abundant in tin.Even the prosperous capital city nowadays, Kuala Lumpur, was a small town built for tin-mining back then. Tristram Speedy, serving as the first Assistant Resident of Perak, played a huge role in safekeeping the area and the minerals. The name "Timah'' literally means "tin" in Malay, symbolizing the historical memory of Malay ancestors and British immigrants making joint efforts to develop the land. Timah's quality crafted skill guarantees its distinctive, smooth, and light floral taste.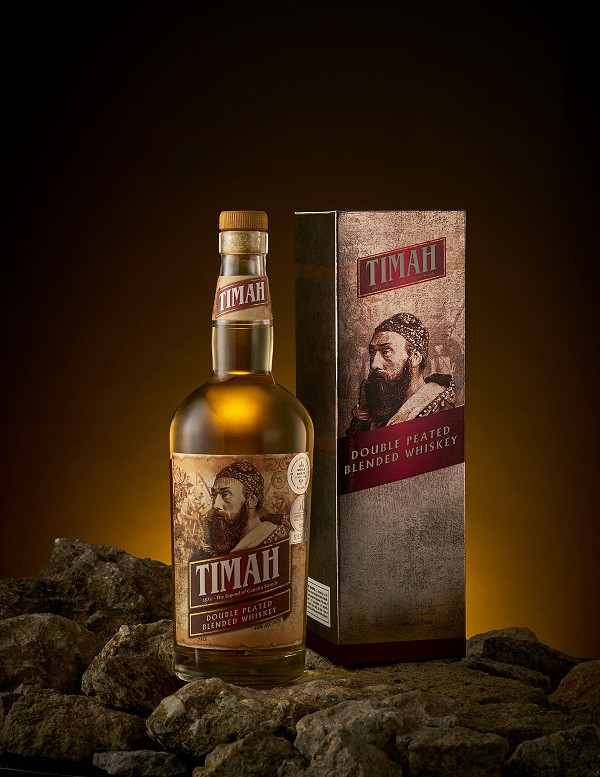 (Image/ Winepak)
Targeted by Dato Seri! Timah Forced to Change Its Name
As the first Malaysian whiskey that won multiple international prizes, Timah was supposed to celebrate its success and accept big applause. Yet on 18th of October, Penang Dato Seri Dr Wan Salim issued a statement urging the government to demand the change of Timah's name and logo. The reason for this request is that "Timah" is the abbreviation of "Fatimah", daughter of the Prophet Muhammud, who is a well respected figure in Islamic faith. Thus naming the spirit "Timah" is considered offensive in Islam. Plus, Tristram Speedy on the logo wearing Kopiah, a common Muslim cap, may confuse local Muslims that "Timah" was an Islamic product. The Pan-Malaysian Islamic Party even requested the government to shut down the distillery.
To settle the dispute, Timah distillery clarified the origin of the brand, and stated that it had no intention to offend the Islamic faith by its naming or logo. In Malaysia, this is not the first case that brands are requested to rename due to potential Islamic-related confusion.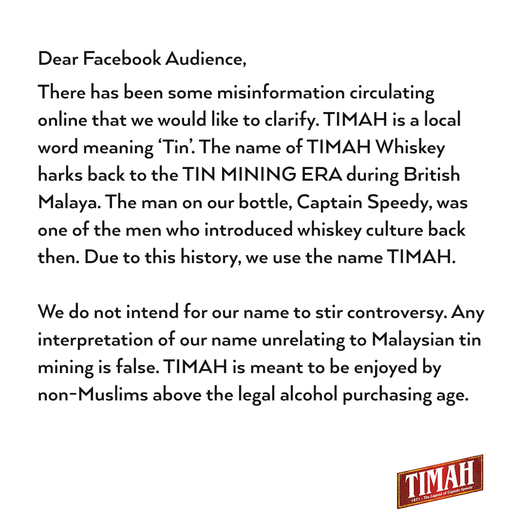 (Image/ Facebook)
A National Pride of Malaysia
After the naming controversy, Timah became hot on debate on Malaysian social platforms. Yet its achievements on international awards shouldn't be diminished; Timah is still recognized as a national pride by many Malaysians. Now Timah has hit the market in Malaysia, Singapore, Taiwan, and Dubai, waiting for more people to have a taste of its floral and breezy flavor. Time to have a try!
---