News Media Coverage
2023-05-17
The Howard Plaza Hotel Taipei runs "Amazing Thai" Campaign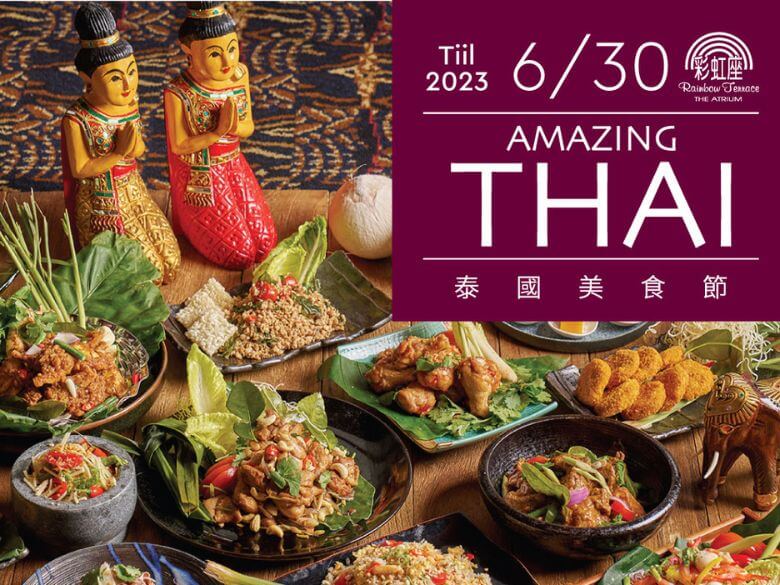 The Rainbow Terrace on the first floor of the Howard Plaza Hotel Taipei is launching the "Amazing Thai" campaign from May 2 to June 30, 2023. It will showcase classic Thai dishes, prepared with unique Thai aromatic spices such as lemongrass, featuring som tum, tom yam goong, stirred-fried red curry lime crab, and Massaman nua. These dishes highlight the distinctive flavors of Thailand and will surely stimulate your taste buds. We're honored to invite guests to embark on a culinary journey featuring the four major Thai flavors of sourness, spiciness, fragrance, and umami.
Thailand's unique tropical climate and favorable geographical conditions have given rise to an abundant variety of spices, and different regions have incorporated their own characteristics into their cuisine. Thai cuisine is also greatly loved by the Taiwanese people. In order to satisfy consumers, Howard Plaza Hotel Taipei presents a variety of classic Thai delicacies with different Thai flavors at the Rainbow Terrace. One highly recommended dish is the "Massaman nua," which has been listed as the number one must-try dish in the world by CNN. It combines various herbs and carefully selected spices. Slow-cooked in coconut milk, Massaman nua features tender, deep brown beef with exquisite flavors. The overall taste is rich and flavorful, with a sweet and spicy profile, and thus Massaman curry earns the title "King of Curry."
Another must-try dish is the chef's special "Yam Neau-grilled beef", featuring top-grade American Kobe beef. The beef slices are lightly boiled to perfection and then mixed with a balanced sauce made from coconut sugar, lemon juice, fish sauce, and Thai chicken dipping sauce. The refreshing Thai flavors bring out the richness of the beef fat, creating a delightful combination that will leave you wanting more. Thai cuisine is renowned for its unique spices and a wide variety of ingredients, occupying an irreplaceable position in the hearts of many gourmets. This Thai food campaign at the Rainbow Terrace presents a rich variety of Thai delicacies by combining the flavors of sourness, fragrance, umami, and spiciness, and showcases the collision of diverse cooking styles. The campaign invites consumers to embark on a culinary journey of taste buds at the dining table.
Classic Thai Food
Appetizer Station
Khao Trang Nham Prick ong, Chicken Sauce, Nham Prick Nhoom
Som Tum
Yam Neau-Grilled Beef
Yam Talay
Soup Station
Tom Yam Goong
Tom Kha Hed
Thai Shrimps Sour and Spicy Soup with Glass Noodles
Live Station
Deep-fried Shrimp Cake
Crispy Shrimp Cake
---